The Best Electric Kettles on Amazon, According to Hyperenthusiastic Reviewers
While we've written before about the most stylish electric kettle and the best teapots, including a glass Japanese teapot, we've gone deep here on the best electric kettles you can find on Amazon as praised by the most enthusiastic reviewers.
Best-Rated Rlectric Kettle
AmazonBasics 1L Stainless-Steel Electric Kettle
"This kettle hits the sweet spot in the categories of value, size, functionality, and appearance," writes one reviewer. Several others note the convenience of the shutoff feature: "It has saved me the problem of worrying about whether I remembered to turn the stove off in the mornings when I leave for work." Even more are fans of the kettle's small footprint. "It takes up only a small space on the counter and heats the water up very fast. The 2-foot cord wraps in a coil and is hidden in the bottom so you pull out only the length you need — no long cords on the countertop anymore. It is lightweight and pours easily with no spilling or dripping. It also looks very handsome and appears to be more expensive than it is."
Best-Rated (less expensive) Electric Tea Kettle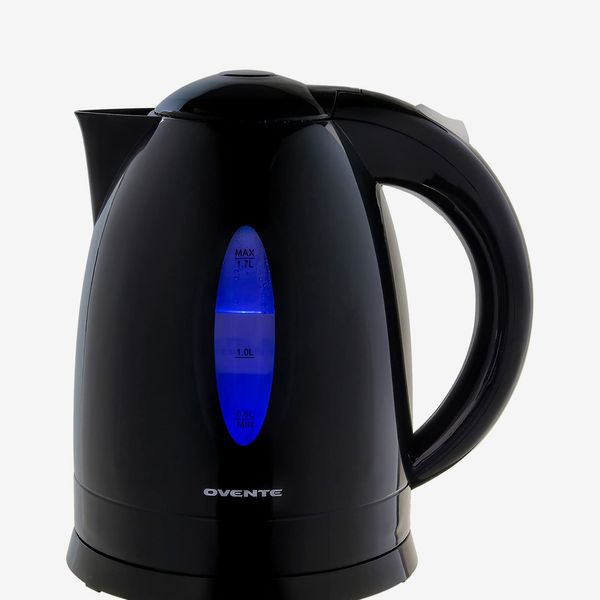 Ovente Electric Water Kettle 1.7 Liter with LED Indicator Light
One review titled "Turns cold water into hot water," sums up what many reviewers feel, which is that this simple kitchen appliance does its simple task well, and for the price, they're more than happy with that. "It doesn't tell you the time in Istanbul. I don't get my text messages or emails on it, but it makes hot water quickly," one says, and more than 20 percent of reviewers say this heats up water fast. "Boils the water faster than the stove and makes instant oatmeal or noodles a breeze," one writes, while another says, "It's fast and holds a good amount, so whether I'm making a mug or a pitcher full, I'm covered." The blue light illuminates when it's on, which reviewers say is "a quick reference," and many think it's safe because "there is no exposed heating element/coil." And just because it's the least expensive kettle on this list, that doesn't mean it's cheaply made: One user said that even with daily use, "My first one lasted a year and a half."
Best Stainless-Steel Electric kettle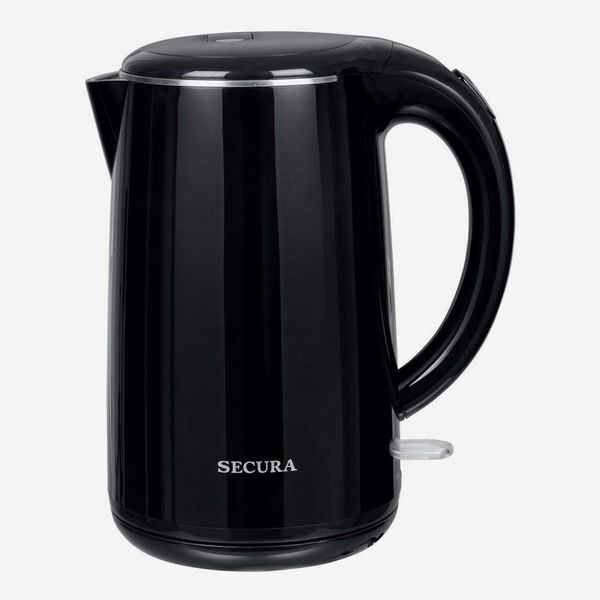 Secura the Original Stainless-Steel Double-Wall Electric Water Kettle
"I have searched far and wide over the years for the Holy Grail of electric kettles: a 100 percent all-stainless-steel interior," writes one reviewer in a lengthy opus about this electric water kettle from Secura. This excitement at the Secura's lack of plastic is repeated throughout the ratings: "I always wanted to get one with insides being all metal; however, I could never find one. Until now, that is. This kettle has it! Finally. Somebody figured it out. Or, should I say, cared enough to design what a lot of people are looking for. I REALLY do not want any plastic parts being in contact with boiling water that my family will be drinking. All stainless steel inside — one big fat plus!"
But even among reviewers for whom the plastic-free design is less important or a nonissue, this electric kettle gets top marks for ease of use. "I can't find anything not to like! It's great to be able to pick up a pot of boiling water and have the exterior be cool to the touch," writes one satisfied reviewer. "It does NOT drip down the sides, easy pour. No over-spill from spout. It heats water quickly and efficiently. It is easy to fill, either on the counter or at the sink. I would buy this again in an instant!"
Fastest electric kettle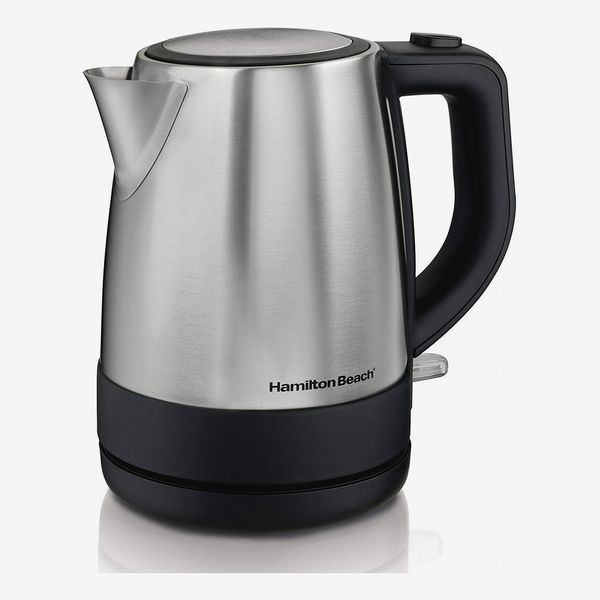 Hamilton Beach 1L Electric Kettle, Silver
"Super fast" is a phrase used by dozens of reviewers to describe this kettle from Hamilton Beach. "Fan-fricken-tastic! I love this electric kettle. It's super fast, and super hot," writes one satisfied customer, adding, "A bit noisy, but super quick." Many also comment on the relatively small capacity, which is appreciated by those heating up water for one person at a time. "I really needed a small water boiler mostly for making tea and hot chocolate," writes one college student. "So something small, not to take too much space, and preferably fast was needed. Since I live in dorms and I am not all the time in the room, I couldn't go with something super cheap and neglect the safety aspect, but at the same time my budget is a bit limited since I am still a student. This water boiler was the perfect solution for me since it took into consideration all my concerns. I very much trust the brand, the price is affordable, and it is small and fast!"
Best (less expensive) fast electric kettle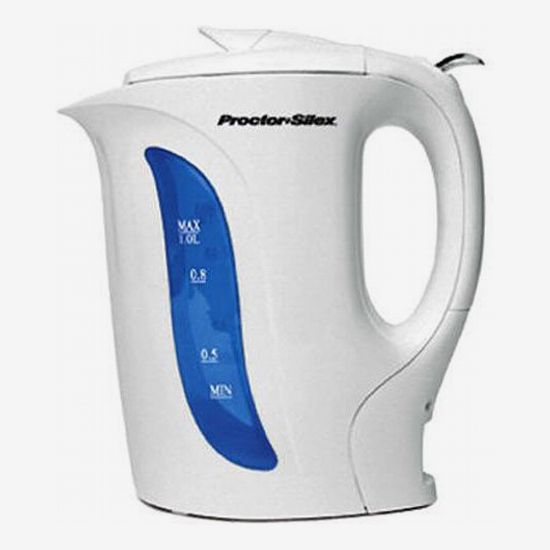 Hamilton Beach K2070Y Proctor-Silex 1L Electric Kettle
This Hamilton Beach model has a lot of fans who are happy with its speed. One reviewer writes, "I use this a dozen times a day at least. If I am going to be making, say, some pasta on the stove, I'll often start the water off in this kettle and then transfer to a pan on the stove, just to get a head start on the meal … I consider this one of my best purchases of all times and recommend it to anyone and everyone." Another adds that this kettle is great for the office: "I keep it on my desk, on a larger-sized cup holder. I fill it once in the morning and plug it in when I am ready to make my tea. It doesn't take too long to heat up. Maybe a minute or two. Meanwhile, I can have my cup and the tea bag ready, and BOOM, hot tea. … However, there are many other uses for this at work too. A quick cup of hot oatmeal, hot cocoa, even ramen soup. I joked with my mom that if anyone at the office went into labor, I would be prepared with the hot water."
Best glass electric kettle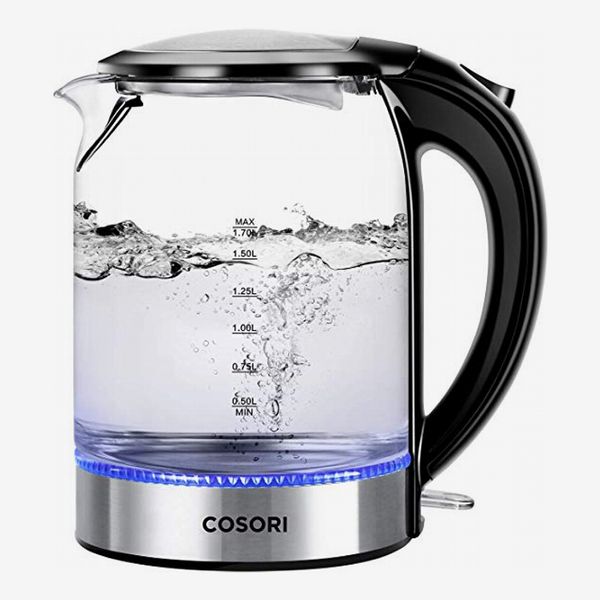 With a body made of high-quality, scratch-resistant borosilicate glass, this minimalist electric kettle has earned many raves for its looks. One reviewer explains, "My Manhattan kitchen is open and visible to the living room. Thus, aesthetics as well as durability and ease of use are important. To me, glass presented the most most attractive appearance. I searched online for weeks, reading reviews and looking at scores of kettles, finally settling on the Cosori." Many users cite their fondness for the LED indicator. As one notes, "We love the clean glass look and the blue light around the rim as it heats up." Another reviewer thinks it's good enough to gift: "I drink a lot of tea, and this is way better than heating water up on the stove or waiting for water to boil in the microwave. Not to mention it's much, much faster. I liked this so much I purchased a couple for gifts and paired it with some nice teas for my friends."
Best (less expensive) glass electric kettle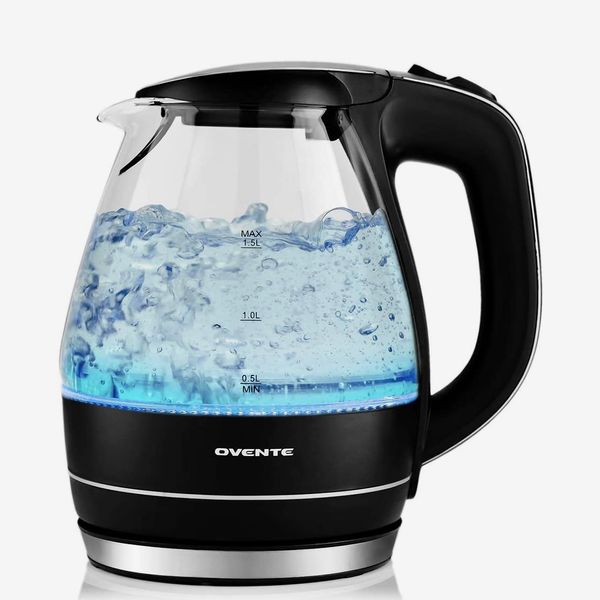 Ovente Electric Hot Water Glass Kettle 1.5 Liter
This glass electric kettle is slightly smaller than the one above, but it's also half the price, and reviewers are similarly impressed with it. "Not only does it look great on the counter, it brings water to a boil FAST," one says. Another writes, "It hits a roiling boil for a minute or two it shuts off to prevent problems. The blue light turns off so you know it will not boil over." This blue light is something a quarter of reviewers mention as both an aesthetic quality and a good indicator. This kettle also beeps when you put it on the docking pad, which is a bit divisive, but one appreciates it because, "it lets me know that I've put it on there properly and when it's done boiling it beeps too which is great." Some reviewers also refer to this as a cordless kettle — meaning the cord isn't attached to the actual kettle just the base — which is a selling point for many. Perhaps the most convincing review comes from someone who would rebuy this model if anything happened to their current one: "If it gave up the ghost tomorrow I'd still give it 5 stars because two years of service from a pot this reasonably priced is commendable."
Best ceramic electric kettle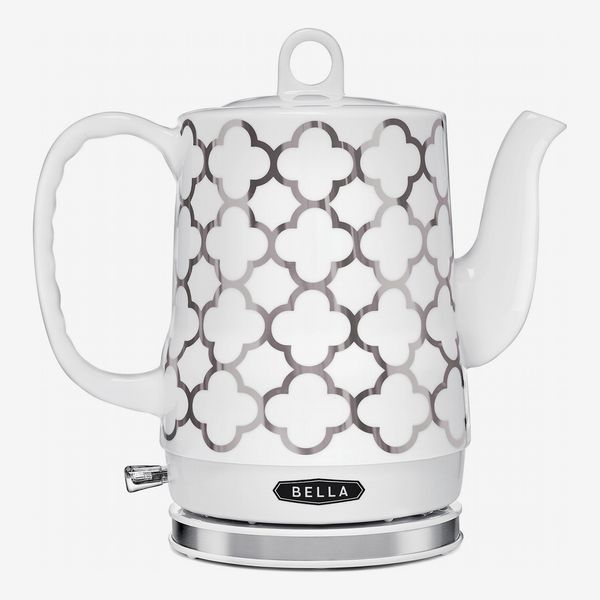 BELLA 1.2L Ceramic Electric Tea Kettle
Reviewers frequently point out the durability of this model, one of the few electric kettles out there with a full-bodied ceramic structure and patterned décor: "Having used this kettle for 5 months straight, I have had no issues. It continues to work flawlessly. The design (blue color) has not faded or chipped off. It can be a little tricky to clean, especially at spout and small drain holes, but luckily having a water softener makes this an infrequent need. A little baking soda and vinegar will do the trick." Another reviewer writes, "I did a lot of research on electric kettles before buying this one. My family has a metal one, but it makes the water taste weird. The glass ones seem too fragile and I'd be afraid to use it, so I settled on a ceramic one! I love this kettle so much, it doesn't make the water taste weird, it's so stylish, and it's very sturdy. Most days I just use it to heat up one cup of tea for myself, and it heats up the water super fast, about a minute. If I have guests over, they're so impressed that it heats up 4-5 cups of water very quickly."
Best electric kettle for pour-over coffee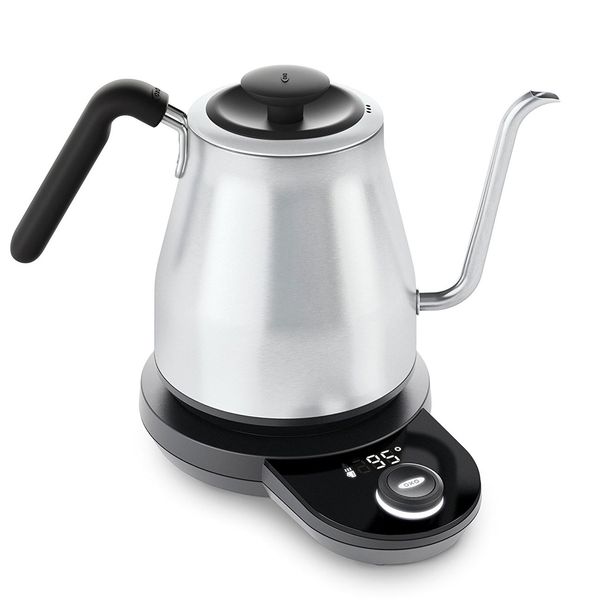 OXO BREW Adjustable-Temperature Electric Pour-Over Kettle
"This unit basically perfects anything you could want from an adjustable-temperature kettle," writes one satisfied reviewer of this pour-over kettle from OXO. "First, it is quite attractive, unlike nearly every other competing product. It has a minimalist interface that works beautifully. The gooseneck is tuned so you don't get water pouring too fast like most other units. And the best feature? If you return the kettle to the base within 60 seconds, it automatically holds the temp at the last temp selected, no button presses necessary." Many serious coffee drinkers remark on the performance of this kettle in making pour-over coffee as well as AeroPress and French press: "This is a fantastic kettle. Heats 1 liter of water to 200+ degrees in less than the time it takes to weigh and grind my coffee and keeps the set temperature for 30 minutes. Comfortable handle and good control of pouring into the dripper."
Best retro-style electric kettle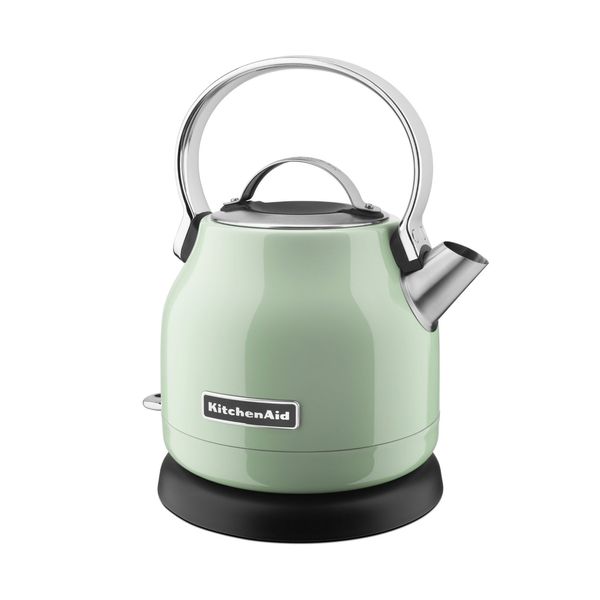 KitchenAid 1.25L Electric Kettle
Dozens of reviewers rave about this kettle's "great look," which is especially at home in vintage-inspired kitchens. "This tea kettle is perfect! Right size, heats water quickly and quietly, stainless steel with removable filter, and a timeless design. Fits my retro 1940 kitchen perfectly," writes one reviewer enamored with the style of this KitchenAid model. "It's a good size to hold plenty of water with a small footprint, too. And as with all KitchenAid appliances, I'm sure it will be bulletproof." Another 5-star reviewer sums up this manually operated kettle's appeal simply: "Uhh, seriously this is one of the cutest, awesome working, easy kettles I've ever had, hands down my absolute fav of all time — and I'm nearly 50."
Best travel-size electric kettle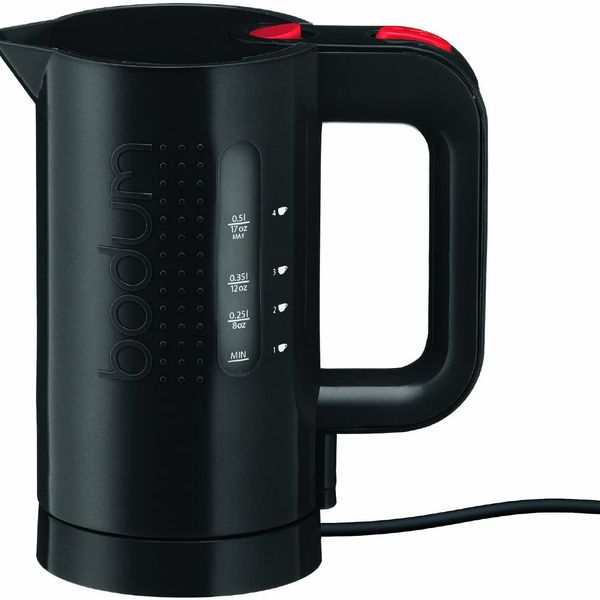 Bodum Bistro Electric Water Kettle, Plastic, 17 Ounce
This is the smallest kettle on this list at 17 ounces, but reviewers say that makes it great for travel. "I've only used this on one long weekend trip so far and it was perfect," one says. "It is lightweight and heats water very quickly." Another says, "I actually use this in my vehicle to boil water for instant coffee or tea." It's also praised by people using it in their single-person households, though the consensus among reviewers is that it is generally good for two servings. "My larger kettle has a minimum fill line at .75L, which is typically far more hot water than I need," one says. "But this kettle will boil as little as a quarter litre – the perfect amount for a large mug of tea." Plus, they last a long time: "After a year of heavy use, they haven't' slowed down any and are not coated (we have hard water, so this can be a problem with other electric kettles)."
Best easy-to-clean electric kettle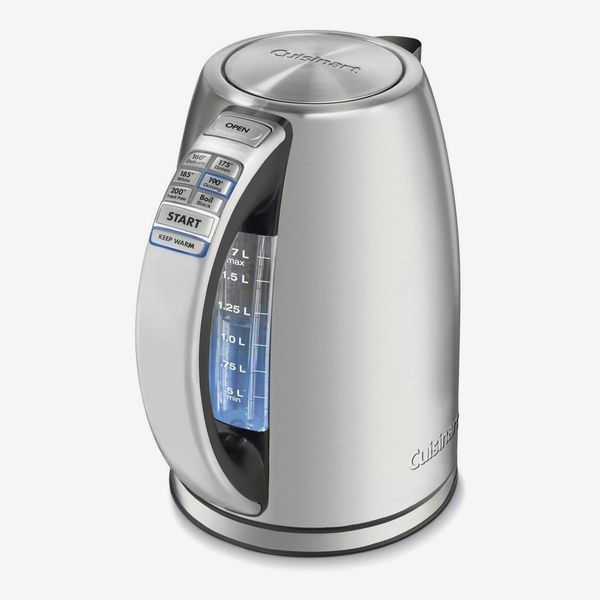 Cuisinart PerfecTemp 1.7-Liter Stainless Steel Cordless Electric Kettle
Reviewers report that cleaning an electric kettle can be challenging, especially if it's a smaller model or a version with a small top. But this kettle is easy to clean, and one reviewer gives their recipe for removing limescale deposits: "Cleaning is as easy as making a water/white vinegar mixture and letting the kettle boil for 10-15 minutes, then rinsing it out a few times." She mostly uses this kettle to make French press coffee, but says, "This kettle is everything you could want." Another reviewer enjoys how easy this kettle is to use too, even after cleaning. "I air dry with lid open and clean wipe inside with a paper towel. Seems to dry just fine that way." And overall, she loves how much of a time-saver this is. "It used to be a tedious task having to boil 'pots' of water (very timely) and try ever so carefully to not spill while transitioning to the pitcher. Love having the quick ability to boil a quick tea while running out of the house in the morning." She even notes, "There are several heat options to boil the water," and appreciates that, "I can boil water at a lower temperature for the kids hot cocoa, etc. Also has a nice 'stay warm' feature."
Best electric kettle with auto-shutoff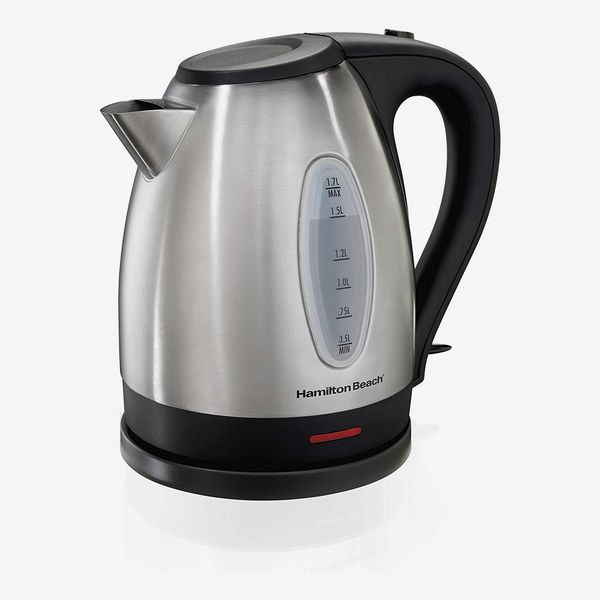 Hamilton Beach 1.7 Liter Electric Kettle for Tea and Hot Water
This kettle shuts off as soon as the water is done boiling, which keeps the kettle from boiling dry and ultimately extends the life of the kettle. One customer calls this auto-shutoff "the star of the show," while one more says, "I love that I don't have to watch the stovetop. It's auto stop feature is the best." He even thinks his family now "drinks more water" because of this kettle. He also notes it's easy to clean. "Just periodically boil water with a little baking soda and vinegar." Another enjoys the auto-stop feature "to keep from boiling the pot dry" but she also appreciates that the kettle "heats the water very fast," and there's "no cord to mess with or unplug." Overall, she says it's "simply great!"
The Strategist is designed to surface the most useful, expert recommendations for things to buy across the vast e-commerce landscape. Some of our latest conquests include the best dining room decor items, coffee makers, knife sets, Japanese coffee brewer, charcoal water filter, and drinking glasses for water and more. We update links when possible, but note that deals can expire and all prices are subject to change.
Every editorial product is independently selected. If you buy something through our links, New York may earn an affiliate commission.